NSA Attends Honors College Citation Ceremony and Reception
NSA Attends Honors College Citation Ceremony and Reception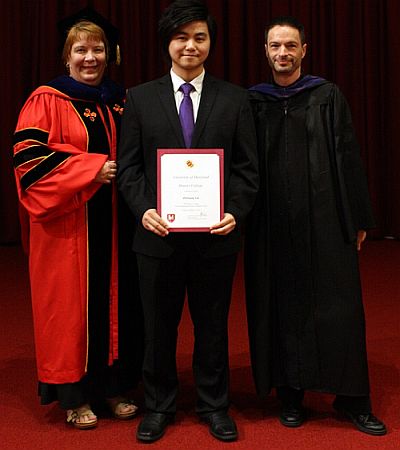 In October 2016, the National Security Agency announced its partnership with the Advanced Cybersecurity Experience for Students at the University of Maryland. Under this collaboration, the National Security Agency will provide eight to nine instructors for ACES courses and will offer mentorship relationships between NSA employees and ACES students. The partnership will also provide students with internship and research opportunities at NSA.
In support of this recent partnership, representatives from the National Security Agency, Brian Sherlock, Christopher Green and Janelle Romano attended the Honors College Citation Ceremony and ACES Reception on November 4th, 2016.
This year, fifty-six ACES students received their Honors Citation for successfully completing their course requirements and maintaining a cumulative GPA of 3.2 or higher. Following the Citation Ceremony, ACES held a reception for students and their families. Employees from the National Security Agency attended the reception to support the students' accomplishments and their partnership with the ACES program. 
November 11, 2016
Prev
Next