ACES Students Tour the NSA/CSS Threat Operations Center at Fort Meade
ACES Students Tour the NSA/CSS Threat Operations Center at Fort Meade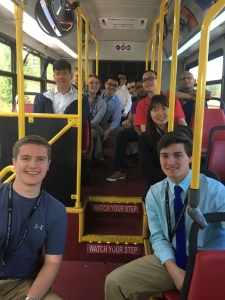 On Saturday, April 23, 2016, 13 ACES LLP students visited and toured the NSA/CSS Threat Operations Center at Fort Meade.
Students were able to attend this event based on their enrollment in a cybersecurity seminar taught by an NSA employee or their participation in a mentoring program with NSA staff.
Attendees heard briefings on various unclassified security topics, learned about internship and employment opportunities with NSA, and saw the Threat Operations Center in action. Students were able to see what they¹re learning in the ACES LLP in action at NSA.
ACES Freshman Grant Hoover said, "Visiting NSA's NTOC was a great opportunity to see place where people work on cybersecurity challenges every day. Since much of what we experience outside of class deals with the corporate sector of our field, I found that the tour helped provide some context for how the government's important role is carried out. 
April 28, 2016
Prev
Next